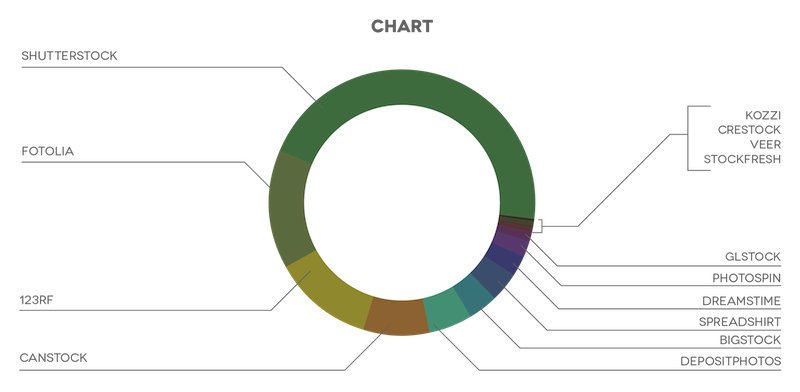 Ich mag den Februar nicht – I don't like February
Der Februar ist kein guter Monat für Bildlieferanten und ist es noch nie gewesen. Er hat die wenigsten Tage, ist aber dafür mit offiziellen und inoffiziellen Feiertagen, Festivitäten und Ferien vollgepackt. Dazu fielen noch die olympischen Spiele in den eh schon zu kurzen Monat.
Um dem Ganzen noch die Krone aufzusetzen, gab es einen größeren Eklat bei der Agentur depositphotos. Es ist herausgekommen, dass die Werke der Bildlieferanten über ein Resellerprogramm bei anderen Agenturen zu einem wesentlich höheren Verkaufspreis (bis zu 99€/135$) angeboten werden. Die Provision an einem Verkauf lag aber nur auf dem Wert eines Aboverkaufs (bei mir 0.31$). Rechnerisch gesehen würde ich bei einem Verkauf der größten Bildgröße einen Anteil von 0.4% des Verkaufspreises erhalten. Da bekommt der Begriff MICROStock doch gleich eine andere Bedeutung. Vielleicht sollte man hier ein neues Wort suchen. Ich glaube, irgendwo schon einmal den Begriff Nanostock gelesen zu haben.
Mehr Informationen gibt es in deutscher Sprache auf
Robert Kneschkes Blog
oder auf Englisch im
Forum der Microstock-Group
.
Es gibt zum Glück auch ein wenig Positives zu berichten. Fotolia hat die Preise für Vektorgrafiken erneut angehoben, so dass ich jetzt bei jedem normalen Vektorverkauf zusätzlich 0.31€ (0.43$) verdiene. Ich bin gespannt, wie sich das auf meine Einnahmen bei der Agentur auswirken wird.
Eigentlich ist es alles Jammern auf hohem Niveau. Es könnte definitiv schlimmer sein, ich könnte die Agentur iStock beliefern. Dort müssen die Bildlieferanten sogar schon ausgezahltes Geld an die Bildagentur zurückzahlen.
February is not a good month for contributors, it never was and never will be. It combines everything what is bad for microstock. A low count on work days, official and inofficial holidays, festivities and vacation time in some parts of Europe. It is not enough, they scheduled the Olympic Winter Games in this year's February.
To top it all, there is still more bad news. This time it is depositphotos and their Reseller Program. It came to attention that deposit allows their resellers to licence the pictures on a much higher level than on deposit itself. The selling price was up to 135$/99€, but the contributors still get a subscription based royalty (for me it is 0.31$). In numbers it means that I received 0.4% of the actual sales price. With that, the term MICROstock gets a whole new meaning. Maybe we should use another word for it, I read the term Nanostock somewhere before.
For more information concerning this topic, visit the
MicrostockGroup
or
Robert Kneschke's blog (in german language only)
.
Well, it wasn't all bad in February. Fotolia raised the prices for a vector licence from five to six credits. With that, I earn an additional amount of 0.43$ (0.31€) with each credit based sale.
To sum it up, I am complaining on a high level, I always do. It still could be worse, I could be contributing to iStock. The contributors there have to pay money back to iStock because they had huge problems with the accounting of their partner program.

Statistik – Statistics
Im Vergleich zum Januar habe ich im Februar ca. 3% weniger Umsatz generiert. Allgemein gesehen ist das ein akzeptables Ergebnis, dafür dass es der Februar war. Ich liege damit immer noch über dem besten Monat aus 2013. Im Detail gesehen war es bei einigen Agenturen eine Katastrophe. Meine Umsätze bei Dreamstime sind um 27% und bei depositphotos sogar um 50% zurückgegangen.
Zum Glück bin ich nicht von einer Agentur abhängig, so dass sich das insgesamt wieder ausgleicht. Canstock hatte einen weiteren BME und Shutterstock, Fotolia, 123rf und Bigstock halten das Level vom Vormonat.
In February I made approx. -3% less in royalties than in January, which is in general quite a good result. I'm still doing better than my BME of 2013. In detail it was a minor catastrophy with some agencies. I had less revenue on Dreamstime and depositphotos. Dreamstime had a drop of -27% compared to January and deposit was even worse with -50%.
Luckily, I'm not an exclusive contributor and still have agencies which performed well despite the month and the season. Canstock performed a new BME again, Shutterstock, Fotolia, 123rf and Bigstock kept almost the same level of January.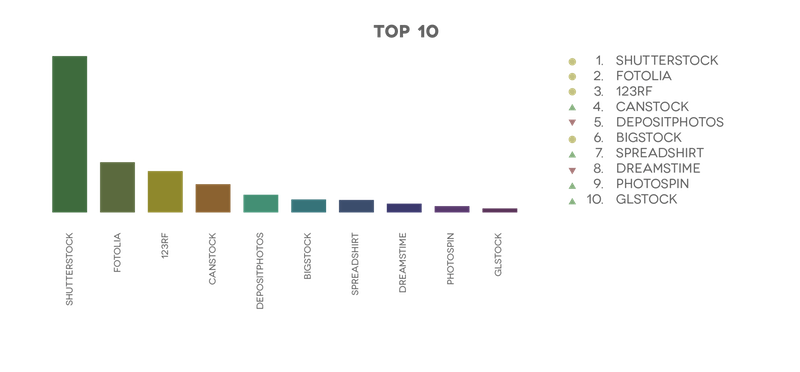 Top 10
In der Top10-Liste hat sich nur im mittleren Bereich und am Ende einiges geändert. Die ersten drei Plätze bleiben unverändert. Shutterstock führt weiterhin das Feld an. Die neue Agentur PIXTA hat es leider komplett aus den Top10 herausgehauen. Ich hätte die Agentur nicht so früh loben sollen. Dafür hat es GLStock in die Top10 geschafft. Nachdem Google die Suchfunktion umgestellt hat, hatte die Agentur einen großen Einbruch an Verkäufen. Seit Ende 2013 ist wieder eine leichte Tendenz nach oben zu erkennen.
There were some changes in the Top10 in the middle and at the end of the list. No changes on the first three digits, Shutterstock is still leading the field. PIXTA left the Top10, maybe it was a bit too early to praise them. In exchange GLStock made a comeback. They had some problems in 2013 after Google changed their search engine. In 2014 my sales are growing again.
Umsatz pro Download – Revenue per Download (RPD)
Bei Shutterstock, Fotolia und 123rf hat sich nichts verändert. Lediglich bei depositphotos hat der Abowahn wieder zugeschlagen und der Wert liegt jetzt wieder auf einem normalen Level. Auf Dreamstime hatte ebenfalls viele Aboverkäufe und komme sogar nicht über einen RPD-Wert von 1.01$ hinaus. Im Gegensatz dazu hat Canstock die Führungsposition verteidigt und darüber hinaus den Wert sogar noch auf 2.86$ erhöht.
There wasn't hardly any change on Shutter, Fotolia and 123rf. I had a huge amount of subscription based downloads on Depositphotos and Dreamstime leading to a massive drop of the RPD-value there. Canstock on the other hand is still leading the field and made a great improvement on top of that. Less subscriptions and more regular or instant sales resulting in a RPD of 2.86$.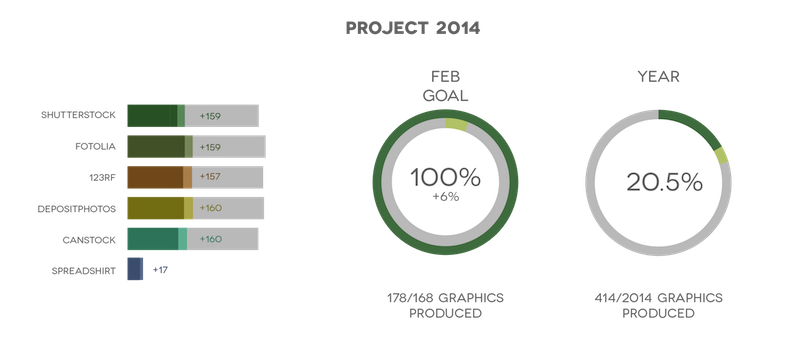 Projekt 2014 – Project 2014
Ich habe das Ziel von 168 Bilder/Illustrationen wieder erreicht. Ich habe insgesamt 178 Werke an die Agenturen verteilt. Ich habe mich in diesem Monat auf das Hochladen von Illustrationen beschränkt, so dass meine Akzeptanzrate bei allen Bildagenturen außerordentlich hoch ist. Ich hatte lediglich vier Ablehnungen gesamt.
Mit 414 Werken habe ich einen ersten Meilenstein erreicht. Ich liege nach zwei Monaten bereits über meiner Gesamtproduktion an Grafiken und Bildern vom letzten Jahr.
I reached my monthly quota of at least 168 images/illustrations again. I focused on illustrations only this month and created 178 illustrations in total. The acceptancy rate was really high, I had only four rejections overall. With 414 accepted photos and illustrations, I reached another milestone. I have now produced more content in this year than in the whole year before.

Spreadshirt
Es gibt hier nicht viel zu erzählen. Es ist mein erstes Jahr auf Spreadshirt und es wächst stetig weiter. Die Umsätze vom Januar habe ich auf jeden Fall übertreffen können. Die Verkäufe sind zwar noch nicht auf dem Level vom Dezember, aber kommen dem schon sehr nahe.
Nothing much to tell here. It is my first year on Spreadshirt and it is still growing for me. I topped my January revenue for sure and almost reached the revenue from December.
Depositphotos
Depositphotos ist gerade die Agentur, wo ich das ärgste Bauchgrummeln habe. Ein Umsatzrückgang von 50% und die vielen Negativschlagzeiten schlagen da schon auf das Gemüt. Leider erwirtschafte ich ca. 10% meines Gesamtumsatzes mit depositphotos, auf die ich nicht verzichten will. Ich werde also in den sauren Apfel beißen und diese Agentur weiterhin beliefern. Ich habe mich aber entschlossen, meine Werke aus dem Partner- und Resellerprogramm herausnehmen zu lassen. Es bleibt abzuwarten, ob dies auch geschehen wird, da die Agentur anscheinend etwas lax mit ihren Versprechungen umgeht.
Depositphotos is the one Agency I am the least comfortable with at the moment. There is the loss of 50% in revenues compared to January and of course the fishy deal with the reseller program. I would drop the agency for sure, but I make around 10% of my sales with them. It is not a figure to ignore easily. For now, I'm swallowing the bitter pill and continue to upload there. At least I asked them to remove all my images from their reseller- and partner-program. It's now wait and see, in the past they were not too keen to keep their promises.
Erwartungen – Expectations
Der kürzeste Monat ist vorbei, Ich hoffe, der März wird besser und die Umsätze steigen wieder. Die drei Tage, die der Monat mehr hat, werden hoffentlich helfen.
The shortest month of the year is over, I'm hoping for a better march. With three days more it shouldn't be that much of a problem.
In eigener Sache – Follow Me!
Bei Fragen, Kontaktanfragen oder einfach nur, weil Dir mein Portfolio gefällt und Du mehr Infos haben willst, folge mir auf
Facebook
oder
GooglePlus
If you have any questions, want to contact me or you just want to follow me for more updates, join me on Facebook or GooglePlus